The nursery was founded in 1875 by Joseph Bory Latour-Marliac for the propagation, cultivation and commercialization of hardy water lilies. Prior to setting up his nursery, Latour-Marliac had found a way to hybridize hardy water lilies through a process that remains mysterious. There was a need, for at the time the only hardy water lily in Europe was a white one. We know from Latour-Marliac's letters that many of his hybrids were the result of a so-called intersubgeneric cross, which is to say the crossing a hardy variety with a tropical one. The resulting hybrid, named Laydekeri Floribunda, soon went extinct, but not before he was able to cross it with species and subspecies he obtained from North America and elsewhere, including N. mexicana, N. odorata rubra and N. alba rubra. Latour-Marliac was ultimately able to build a collection of water lilies with a colour palette that ranged from delicate yellow to fuscia and deep red.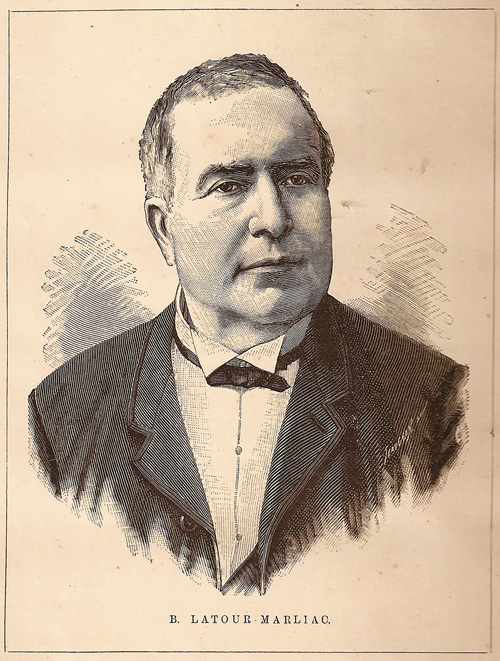 By 1889 Latour-Marliac felt that his collection was significant enough to exhibit at the World's Fair in Paris that year, and so his new-fangled plants were unveiled along with the Eiffel Tower. Installed in the water gardens in front of the Trocadéro, the hybrids were a sensation and won first prize in their category. More importantly, however, they caught the eye of the painter, Claude Monet. Monet saw the plants as a marvel and would later become captivated by them. Soon after this experience at the Trocadéro, Monet bought the property in Giverny, which he had been renting, and began to build his jardin d'eau, or water garden.
Once the pond at Giverny was completed, Monet ordered a quantity of water lilies from Latour-Marliac, which orders are still on site in our archive. It was these lilies that became the subject of the famous paintings, Les Nymphéas, now on display at the Orangerie Museum in Paris. Surprisingly, little or no mention of Latour-Marliac's role in the creation of those paintings is mentioned in the historical works that pertain to Monet's most famous paintings. Yet arguably Monet was painting more than just pretty flowers - he was capturing on canvas a botanical novelty, and his paintings are among the first record of non-white water lilies growing in Europe.
We owe a debt, therefore, to Joseph Bory Latour-Marliac not just for the beautiful water lilies that we can enjoy in our gardens, but for the inspiration he gave to his friend, Claude Monet. Ultimately, it was the two men together who made the nation of France, without doubt, the birthplace of the water lily. Latour-Marliac was born in 1830 in Granges-sur-Lot, just a few minutes down the road from Le Temple-sur-Lot, where he would build his nursery. His father was a farmer and a naturalist, and the family owned a large estate. It was to this estate that he would return from Paris, after abandoning his studies in law. Upon his return, his attention turned to horticulture and he set about developing the largest collection of bamboo in Europe. Two varieties that he introduced still carry his name : Phyllostachys bambusoides 'Marliacea' and Phyllostachys nigra 'Boryana'. There are still many varieties of bamboo on the nursery site today. The water lilies came next and the rest is history.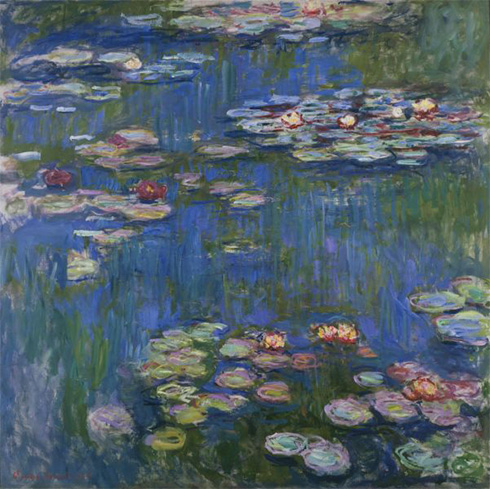 When Latour-Marliac died, in 1911, his descendants maintained the nursery in Le Temple-sur-Lot. His daughter, Angéle, married Maurice Laydeker, and the two continued to operate the nursery until after World War II, when their children took over. From the 1950s through to 1991, the Laydeker family administered the business from Bordeaux, and a local family, the Maurels, managed day-to-day operations. In 1991, the Laydekers sold the nursery to Stapeley Water Gardens of Great Britain, which was founded by Ray Davies. Mr. Davies and his wife, Barbara, personally undertook a massive restoration effort, adding many new features to the property. During the Davies' tenure a number of energetic managers contributed to the site, among them Chris Farmer, Karine Belotti, Charles Overton and Sylvie Benedetti.
In 2007 Robert Charles Sheldon acquired the nursery. Sheldon, of American origin, has a long personal and professional experience with water lilies and water gardening. He is also a passionate entrepreneur and scholar of entrepreneurship, holding an MBA from the FW Olin School of Business at Babson College and a Ph.D. in Organisation Science from Sciences Po Paris. A professor in the Department of Entrepreneurship at ESCP Business School, Sheldon spends the winter in Paris, and the summer in Le Temple-sur-Lot among the water lilies. His stated aim is to put Latour-Marliac back at the centre of the water lily world, thereby ensuring its future.
Latour-Marliac's success since 2007 is the result of efforts made by its enthusiastic and dedicated management team : Fatiha El Basri, General Manager; Benoit Dubois, Production Manager, Thierry Valuet and Pascal Battistis, Gardeners, and Emma and Martin Howard, Head chefs at Café Marliacea.

We know from our archives that Monet placed several orders with Latour-Marliac. He placed his first order (transcribed and translated further down) in 1894. This was the year that the painter finished construction on the water garden at Giverny. Since there would have been no plants whatsoever in the pond at that time, we see that he mostly ordered aquatic plants. It is also interesting to see in this order that he purchased as many lotus as he did water lilies. Had he had better luck with the lotus, his paintings Les Nymphéas might have been Les Nelumbium!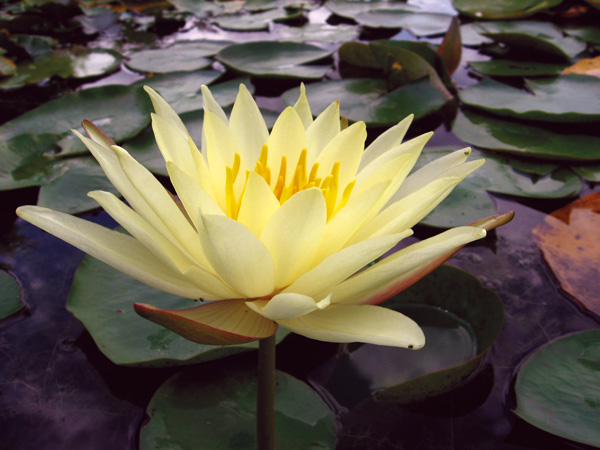 The 1894 Order : 

3 Polygonum Amphibium (Water Smartweed)
3 Trapa Natans (Water Chestnut) 

3 Trapa Verbenensis or Narbonensis (Horn Nut) 

3 Arundinacea Picta (Syn. Phalaris Arundinacea Picta, Ribbon Grass) 

3 Caltha Polypetala (Syn. Caltha Palustris, Marsh Marigold) 

3 Carex Folliculata (Northern Long Sedge) 

3 Eriophorum Latifolium (Broad-leaved Bog Cotton) 

3 Eriophorum Scheuchzeri (White Cottongrass) 

3 Hydrocotyle Bonariensis (Largeleaf Pennywort) 
3 Hydrocotyle Vulgaris (Marsh Pennywort) 

3 Hydropyrum Latifolium (Syn. Zizania Latifolia, Manchurian Wild Rice) 

3 Lysimachia Vulgaris (Yellow Loosestrife) 

3 Myriophyllum Proserpinacoides (Syn. Myriophyllum Aquaticum, Parrot Feather) 

3 Orontium Aquaticum (Goldenclub) 

3 Pontederia Montevidensis (Pickerel Rush) 

3 Sagittaria Gracilis (Syn. Sagittaria Sagittifolia, Arrowhead) 

3 Saururus Cernuus (Lizard's tail) 

3 Saururus Loureiroi (Syn. Saururus Chinensis, Chinese Lizard's Tail) 

3 Scirpus maritimus (Syn. Schoenoplectus maritimus, Saltmarsh) 

3 Scirpus radicans (Syn. Schoenoplectus radicans) 

3 sisyrinchium sulfureum 

3 Typha Stenophylla (Syn. Typha Laxmannii, Laxman's Bulrush) 

2 Nymphaea Flava (Syn. Nymphaea 'Mexicana', species from Florida) 

2 Nymphaea 'Laydekeri Rosea' (Latour-Marliac, 1892) Pink 

2 Nymphaea Sulfurea Grandiflora (Latour-Marliac, 1888) Yellow 

1 Nelumbium Album (Lotus, species) 

1 Nelumbium Japonicum Roseum (Lotus, species) 

1 Nelumbium Luteum (Lotus, species) 

1 Nelumbium 'Osiris' (Lotus, Latour-Marliac, c. 1890) 

1 Nelumbium Speciosum Roseum (Lotus, species)
Latour-Marliac also appended to the invoice some planting instructions for the lotus, likely in direct response to Monet's concerns about their hardiness :  
"Lotus are perfectly capable of growing outdoors in the Eure departement (area of Normandy where Giverny is), as is mentioned in the catalogue. The rhizomes must be planted horizontally and carefully covered with earth in the pond where they are to be planted. They should not be placed in more than 50 cm of water." 


In the end, Monet's lotus didn't take, but not because they weren't hardy.  
Monet's subsequent orders were more modest, as the two transcribed below, from 1904 and 1908, indicate. 


1904 Order :
1 Nymphaea 'Atropurpurea' (Latour-Marliac, 1901) Deep Red 

1 Nymphaea 'Arethusa' (Dreer, 1902) Pink-Red 

1 Nymphaea 'William Falconer' (Dreer, 1899) Deep Red 

1 Nymphaea 'James Brydon' (Dreer, 1889) Deep Pink 
1908 Order :  
6 Nephrodium Thelypteris (Syn. Thelypteris palustris, Marsh Fern)
Contemporary Encyclopedia (1908)

The real progress of horticulture since the beginning of this century cannot be denied. While in the past it was somewhat random to obtain new varieties in the flora, to sparkle the exotic plants, to multiply the species, we have arrived today, so to speak scientifically, to obtain for sure these same results, so that our great horticultural Establishments conceal real wonders.
As horticulture has progressed, the taste for plants and flowers has itself developed in great proportions. Not only have ornamental plants been used to decorate apartments, conservatories and verandas, but there is no large meal or reception without bouquets and baskets of natural flowers appearing in profusion on tables, ornaments, fireplaces, brackets and wherever this type of ornamentation harmonizes with the furnishings to enhance their brilliance. Not only the gardens, but also the water rooms have been decorated with special aquatic plants of the most wonderful effect and which are more and more sought after.
To realize the floral magnificence that modern horticulture can offer to the public, we visited one of our first French establishments, belonging to Mr. LATOUR-MARLIAC, at Temple sur Lot (Lot et Garonne), who is well known for his botanical science, for his interesting horticultural publications and for the important progress he has made in certain branches of horticulture.
The plantations of M.B. LATOUR-MARLIAC, in Temple sur Lot, are located in the heart of the most famous area for the production of excellent prunes called "Robe de sergent ou d'Agen", which are the object of a very extensive universal trade. They are divided into two categories, one essentially agricultural with an area of 25 hectares and consists mainly of plantations of plum trees, vines, persimmon trees from Japan, newly imported and which will soon have a large lacquer tree society, their compatriots. The other, exclusively horticultural, includes several sections and covers about one hectare. It is dedicated to the propagation of bamboos, lacquer trees, aquatic plants of all kinds and, in particular, water lilies.
In spite of the significance of these specialties, enhanced by the presence of a host of other greenhouse and outdoor plants, the greatest interest of the M.B. LATOUR-MARLIAC establishment results from the remarkable selection of aquatic plants, in which the water lilies hold first place.
The success of M.B. LATOUR-MARLIAC in hybridizing water lilies is universally known and he is rightly considered as the initiator of this new and attractive horticultural way, so quickly accepted by the fashion. The memory of the charming series II. Hybrids, exposed by him, in 1889, is not yet erased, displayed on the small river of Trocadère, they competed of magnificence during six months with all the floral wonders gathered at the universal exhibition; they were worth to M.B LATOURMARLIAC a first price, and strongly required as of their appearance, they made the principal amateurs and horticulturists of the two worlds tributaries of the Establishment of Temple on Lot, whose creation goes back up with hardly ten years.
It is then that the magnificent results acquired by M.B. LATOUR-MARLIAC determined him to transform his experimental garden into a commercial exploitation. It is necessary to recognize that nature generously helped his combinations by putting so to speak under his hand a multitude of very copious living springs; one counts not less than thirty of them especially in his residence on a perimeter of one thousand meters at most.
The main seat of the aquatic exploitation occupies the two banks of a pretty brook whose pearly waters roll merrily on a bed of pebbles; its edges are furnished with bamboos and various forest species which constitute a delicious bocage. It is in this delightful site that are built many basins and aquariums of various forms, surrounded by a thousand tanks and other containers, the whole fed as needed by springs gushing out on all sides and whose average flow for the three main ones together, is more than one hundred thousand liters per day.
It is there that the most worthy representatives of the flora of the waters are enthroned, the elite of the majestic and superb nelumbium and its hybrid novelties of rustic water lilies with brilliant colors, which await only the signal to dash in all the directions of the world, followed in turn by other generations more resplendent still; it is thus that the splendid N. Leydekeri rosea, of a very vivid carmine pink; N. rubra punctata; N. flammea with dark amaranth tints, the last gains of the specialist, admired by all the appreciators, are prepared for a next departure.
In this brief presentation, we cannot pass under silence a very attractive mode of culture, inaugurated by M.B. LATOUR-MARLIAC, for several water lilies of intertropical origin, such as N. zanzibarenmies; N.rosea; N.azurea; N.cerulea; N.soutifolea; N.stallata, etc.. The basin that they occupy is 16 meters long. From the month of October, water is introduced from an abundant source whose temperature is unchanging at 12 degrees; it is covered with glass frames to preserve from contact with the outside air the buds that emerge, and in these simple conditions, delicate species bloom all winter and can contemplate with impunity the spectacle, unknown in their country and terrifying for them of all the frigidity of the cold season. Towards the end of April, the frames are removed, the spring is diverted so that the water of the basin is identified with the temperature of the ambient air and the vegetation of the N. then takes its luxuriant festival rise.
Let us conclude by saying that floral aquiculture is not only interesting by its decorative effects; it is also interesting by its food contribution for the fish farming either by the own juice of the plants, or by the quantity of animalcules of larvas, insects, mollusks, crustaceans, whose existence they maintain and which become the prey of fish. Let's add that the domestic economy can find advantages by using the seeds and tubers of a large number.
The most favorable times to visit the Temple sur Lot settlement are the months of July, August and September, when all the blooms give at once and all the native and exotic plants, caught up in a proud emulation, were their dazzling finery.
As for us, it is in September that our visit took place and we kept the most pleasant memory of these floral wonders, quite incomparable, as well as of the kind reception of their intelligent director M.B LATOUR-MARLIAC.
Now 62 years old, honored by the sympathies of his fellow citizens who have appointed him mayor of Le Temple sur Lot, he has devoted most of his life to horticulture. He is not only a skilled horticulturist, but a true scholar, known and appreciated in the world of science. And we should add here: a scholar as well as a writer, for everything he writes has a literary value, is distinguished by charm and elegance of style, a quality very rare in men who confine themselves to a specialty unrelated to letters. He is a member of the Royal Linen Society as well as of other learned societies; he maintains extensive scientific relations and the eulogistic letters that he receives for his work (we have some of them in front of us) prove how much they appreciate in the learned world the value of the results he has obtained, the services he has rendered to horticulture.
The Bibliographie générale de l'Agenais (Volume 3) gives a complete biography of Mr. LATOUR-MARLIAC, and of his father who was also a distinguished botanist, from which we extract the following information: Born in Granges (Lot et Garonne) on March 6, 1830, initiated at an early age by his father to the study and research of natural history, M.B. LATOUR-MARLIAC became passionate about botany and especially about the flora of the waters which he was to serve brilliantly. His beautiful and fruitful experiments of hybridization of water lilies had, in particular, a considerable impact on the horticultural world.
The writings of M.B. LATOUR-MARLIAC have a real value. They make us regret that their author lacked the leisure to increase their number.
Notice sur les Nymphaca et Nelumbium rustiques, leur culture et celle d'autres plantes aquatiques - Le Temple sur Lot (Pau, impr. A. Menetière), 1888 in.8 of 16 pages. Extract from the horticultural review "Le Jardin" (in.4), 1887. Study whose very literary form increases the interest. One can read about the rustic water lilies and the Marliacea series in an article by M.Maurice-L. de Vilmorin, in the Revue Horticole of January 1st 1891.
Besides this study, I will quote :
-Bambusa Castilloni (Revue Horticole, November 16, 1886)
-Nymphéa Marliacea chronatelle folis marmoratis (Le Jardin, February 20, 1889) art. accompanied by a superb colored plate.
-The small aquariums of open air, greenhouses and apartments (Ibid. 5 February, 5 August 1890). Curious study of six articles, from which all friends of aquatic flora, and they are numerous, can largely profit.
M. B. LATOUR-MARLIAC is preparing a Treatise on the ornamental aquatic plants, which cannot fail to be well received. As for us, we can only fully approve these flattering appreciations of an authorized biographer, all the more so as we have been able to see for ourselves how much they are based on remarkable results and on real horticultural progress for which M.B. LATOUR-MARLIAC deserves all the credit.
We had a great pleasure to visit this model establishment, so well organized, directed with so much care by an enlightened specialist that we are happy to present today to our readers, because his creations have conquered him a well deserved renown in the French horticulture and he had his marked place in our gallery of the distinguished scientists whose career and works do honor to our country. -C. DERVILLE
ADDENDUM c. 1930 :
Mr. Bory LATOUR-MARLIAC died in Temple sur Lot on January 26, 1911 bequeathing his beautiful work to his son who in turn died in January 1924. Today this establishment, whose reputation is well known, belongs to the granddaughters of M.B LATOUR-MARLIAC, M.Jean Laydeker. Initiated by the late great creator, he continues the work of his grandfather and new varieties are offered each year to the growing number of lovers of this beautiful flower that is the "Nymphéa".
Mr. LATOUR-MARLIAC, whom the author of Wasps held in high esteem, has acquired a great and legitimate notoriety in aquatic floral culture. Several varieties of water lilies bear his name, and Bory de Saint-Vincent (to whose family he belongs through his mother) would certainly not disavow his lineage.

In the preface to his 1896 work on bamboo, The Bamboo Garden, A.B. Freeman writes, "M. Latour-Marliac, of Temple-sur-Lot, Lot-et-Garonne, France, the greatest European importer of these plants, has always been most amiably ready to furnish me with the results of his observations. »
Few people know that before water lilies, Latour-Marliac was regarded as an innovator and expert in the domain of bamboo, and the nursery in Le Temple-sur-Lot was largely devoted to the propagation and sale of these plants until his success with water lilies was such that, in the 1890s, they took all of his time. Below right is the hand-written version of the bamboo catalogue from 1887.
Latour-Marliac had regular and prolific correspondence with all of the bamboo enthusiasts of the time, including Eugène Mazel (below left), who was in the process of building his now-famous bamboo garden in Anduze.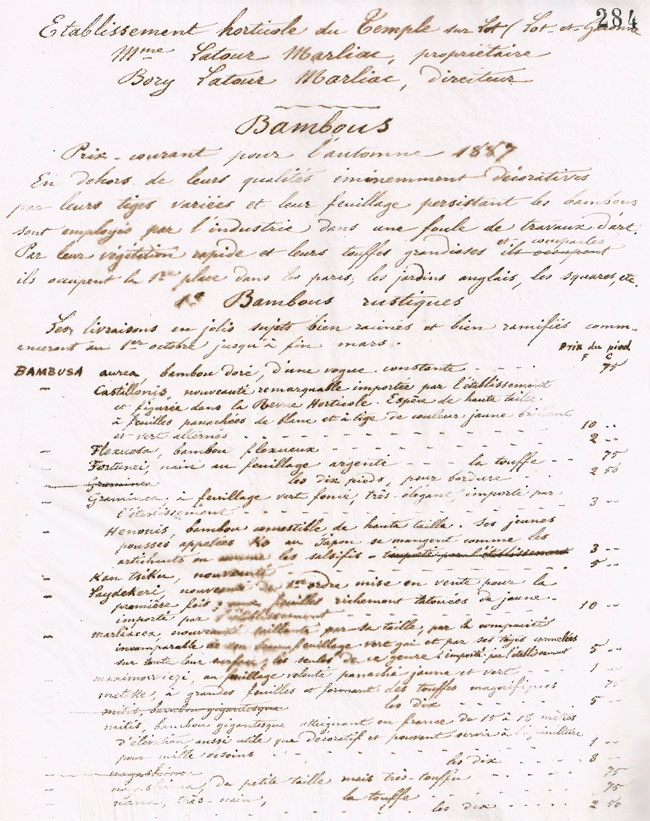 Latour-Marliac is responsible for introducing many bamboo varieties to Europe, a number of which he named. The most well-known of these are shown below. From left to right : Phyllostachys bambusoides 'Castilloni', Bambusa 'Alphonse Karri', Phyllostachys nigra 'Boryana' et Phyllostachys bambusoides 'Marliac'.
Our archives are full of letters between the Count of Castillon and Latour-Marliac, one of which is above-left. The latter made sure that the former always had the latest varieties, and the Count, a true enthusiast, appreciated the technical detail into which Latour-Marliac went in his missives. Alphonse Karr, noted journalist from Le Figaro newspaper (above-right), was also a dedicated customer and passionate bamboo gardener, such that he was honoured with his own namesake variety as well.
Over twenty spectacular varieties of bamboo, including the above-mentioned varieties, still grow in our botanical gardens in Le Temple-sur-Lot. A few of these exist in large stands that reach over 30 feet in height.