PACKING, GUARANTEE & SHIPPING DATES
PACKING: Water lilies & lotus

When you purchase a water lily or lotus from Latour-Marliac, you are purchasing a plant that has been cultivated outdoors at our nursery in Le Temple-sur-Lot using the same methods as those used by Bory Latour-Marliac in the 19th century.
Our water lilies and lotus are sold mature and are expected to flower within the year of planting.They are sold bare root, which is to say without substrate, but ready to plant. Water lilies will have developed pads, and buds, depending on the season. Lotus are always sold in dormant form, before leaves and buds emerge. Tropical water lilies are sold pre-rooted in small pots, though well-developed plants may be shipped bare root later in the season.
Water lilies are harvested in the morning. They are cleaned and disinfected before shipping. The rhizome is then packed in moist paper and sealed in a plastic bag, in order to preserve humidity. To each order we add our Water Gardening Guide, which contains detailed planting instructions, as well as the invoice and a brochure about visiting Latour-Marliac. In April and May we ship on Monday to Thursday, and from June we ship on Tuesday and Wednesday only. Packages arrive within 24-48 hours within France, 48-72 hours for most other European countries. We ship with DPD. You will receive a shipping notification by email with tracking instructions when your order ships.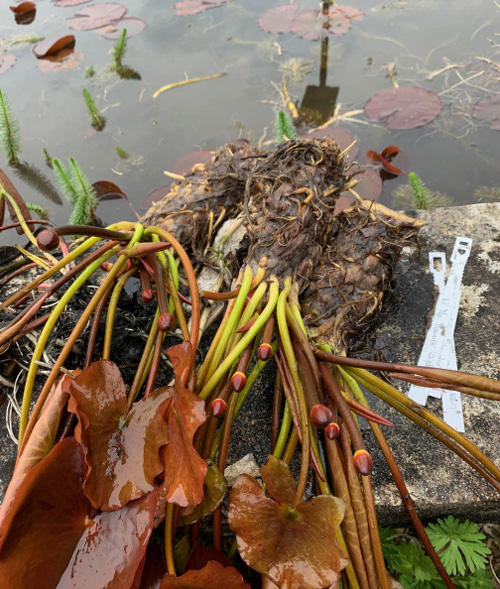 Left, three hardy water lilies in bare root form; right, a tropical water lily in pre-rooted form; below, a lotus rhizome. The size of plants and rhizomes will vary according to the variety of plant and season.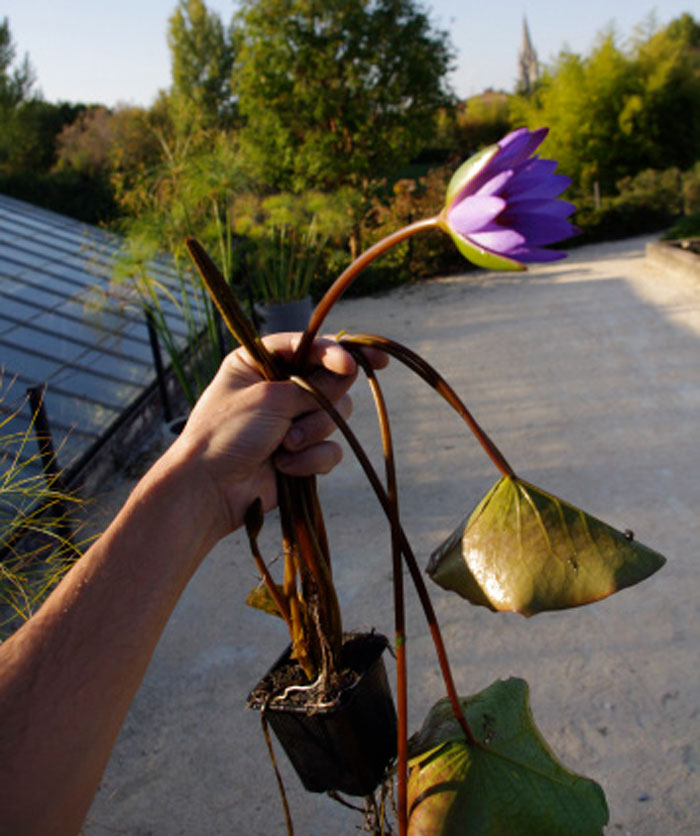 PACKING: OTHER AQUATIC PLANTS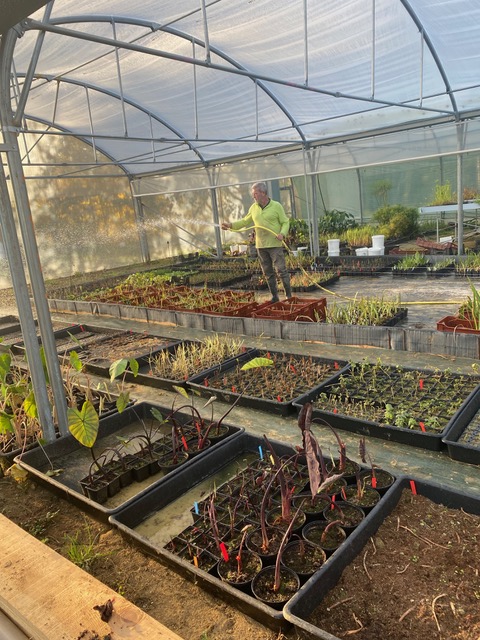 Our other aquatic plants are cultivated on site by our production team in our 1500 M2 of greenhouses. The majority of our aquatic plants may be purchased in two formats: bare root or in pots. Most bare root plants are actually pre-rooted plugs, while others, which lagrer rhizomes, are sold withjout substrate. Plants purchased in potted formzt come in 9 cm 500 ml pots.
Our colocasias and alocasias are now sold exclusively in 9 cm 500 ml pots.
The size of our aquatic plants depends significantly on the season in which they are ordered. Because they are grown in greenhouses, plants shipped in early April will arrive leafed out, while plants shipped later in the season that have matured further may have to be trimmed during packing.

All our plants are sold with our guarantee of quality and service:
-- If a plant does not arrive in good condition, contact us within 24 hours so we can send you a replacement.
-- If you have a question or problem regarding a plant, one of our experts will be available to assist you (though not always immediately) by email or telephone.
-- If a plant does not develop or dies rapidly after planting, we will guide you until you succeed, including replacing a plant or giving you a discount on a subsequent purchase if necessary.

Shipping DATES & POLICIES
-- Orders containing hardy water lilies, lotus and other hardy aquatic plants ship in the order received from the 1st of April.
-- Orders with tropical water lilies and other frost-sensitive plants, like water lettuces, ship from the 15th of May.
-- You will receive a shipping notice by email with a tracking number from DPD once your order has shipped.
Shipping Policy for orders placed before May 1:
-- Orders containing both hardy and frost-sensitive plants placed before May 1 will be dispatched separately, at no additional client expense, if the value of each class of plant exceeds 25 Euros VAT included. If that is not the case, then the order in its entirety will be dispatched according to the ship date for the frost-sensitive plants.
-- If you wish to avoid having your order delayed, for example by the presence of one water lettuce, you have two options: 1) increase the order size such that it includes at least 25 Euros worth each of hardy and frost-senstive plants, 2) place separate orders for each class of plant, and pay shipping for each.
-- Beyond tropical water lilies, if an aquatic plant is frost-sensitive and therefore liable to shipped in mid-May, this information will be indicated in the description of the plant.